Kitty Lea In Bizarre
Some very hot (not only because she is on fire) pictures of a topless Kitty Lea in Bizarre magazine. Im obviousley a boobie man but that ass shot is damned sexy. Keep it up Kitty!
To save bandwith these photos have been uploaded to an image viewer. If these photos are broken please send me an e-mail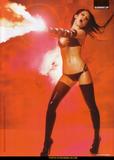 Get laid next year with the help of Adult Friend Finder – FREE registration.
December 27th, 2007
Posted in Busty Brits, Kitty Lea